Darlene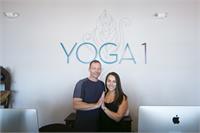 Darlene is co-founder of Yoga One and life partner to Steve, Mommy to Sammy and Max. Darlene's classes are welcoming and insightful. She instructs with grace and kindness and loves making yoga available to students of all levels. In addition to her yoga studies, Darlene has done many workshops on improving one's life and transformation. Darlene's classes weave an inspiration or intention through them, touching on universal topics and uplifting the whole.
The Skinny on Darlene: Darlene keeps her cards close, but don't be fooled by Darlene's gentle demeanor. Behind that sweet smile is the woman who is feisty enough to put up with Steve every day. The same goes for class, while there is something for everyone, don't expect pillow yoga!
Teaching Yoga Since: 2005
Trained In: Anusara Yoga, Itsy Bitsy Yoga
Darlene's Teachers: Christina Sell, John Friend, Jordan Bloom, Betsey Downing,
Darlene instructs the following:
Take it slow while moving and stretching in just the right soothing way. One of our most accessible classes for all yogis.




Move at a moderate pace int this hybrid Yoga Basics/Alignment Power Yoga class. Includes basic and more challenging options to benefit from a variety of poses. Open to active beginners and experienced students.




Focus on foundational poses and good alignment in this moderately paced class. Great for newer yogis and continuing students who like to move but are less interested in advanced postures.