Shari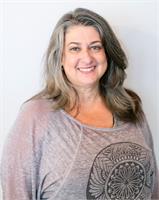 Happy to be doing anything creative, Shari has had many different occupations over the years. First and foremost she is an artist whose inspiration comes from her voracious reading habit, yoga practice and her own life experiences. She is very happy to be sharing her love of yoga by teaching at Yoga One, her home away from home. The skinny on Shari: She finds humor in almost every situation and will not hesitate to laugh or, more likely, giggle, about it! Usually, she is laughing at herself. Teaches Basic and Restorative Yoga (a huge fan of Savasana, this is a great fit). Teaching Since: 2014 Trained in: Hatha Yoga Teachers: Darlene and Steve Feinzig, Peter Barber, Christy Nones-McKenzie, Mark Roberts, and the many wonderful teachers and guest teachers at Yoga One.
Shari instructs the following:
Take it slow while moving and stretching in just the right soothing way. One of our most accessible classes for all yogis.




Slow down, unwind and decompress in our most nurturing class. Bolsters, blocks and blankets support the body while several-minute resting poses help you achieve a deep calm. Ideal for all level yogis.