Alina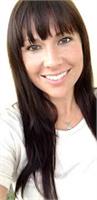 Alina is a mother, Cardiac/Vascular Technician, and a lover of yoga. Practicing since she was 15 she expresses body and spirit through her teachings. Her classes are challenging, but she offers a variety of variations for all levels. In love with this practice Alina continues to share her passion for yoga while helping to create and grow a strong yoga community.
The Skinny on Alina: Besides yoga Alina's loves to go boating and free diving in her spare time.
Teaching Since: 2002
Trained In: Barkan Method Hot Yoga Level 1 & 2, AcroYoga Level 1 & Level 2, Thai Yoga Bodywork with Vedic Conservatory
Alina's Teachers: Jimmy Barkan, Jason Nemer, Arianne Traverso
Alina instructs the following:
Move at a moderate pace int this hybrid Yoga Basics/Alignment Power Yoga class. Includes basic and more challenging options to benefit from a variety of poses. Open to active beginners and experienced students.




Get your heart going in our fastest paced Vinyasa flow class that focuses on moving through the postures while paying special attention to the breath. Explore more challenging poses and find joy through ample sun salutations. Ideal for experienced yogis and those without wrist, elbow or shoulder injuries.