Ellie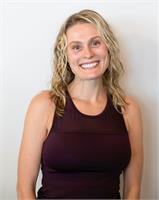 Ellie Blue is originally from North Carolina, where her training began with dance lessons at the age of nine. She has a BA in Dance and Theatre from UNC Charlotte and a Therapeutic Massage Diploma from Wake Technical CC in Raleigh. She has been practicing yoga since 2003, and recently completed Yoga Teacher Training at Yoga One. She is also a student of AcroYoga. Ellie Blue's love of movement arts drew her to the practice of yoga, the symmetry and balance in the body that yoga provides is what led her to become a teacher. Through dance, massage, and yoga training, she has acquired a knowledge of anatomy that easily lends a strong alignment-based style to her classes. And she enjoys choreographing sequences that flow organically from one pose to the next.
The skinny on Ellie Blue:
Prepare to surprise yourself! She loves to explore variations of poses and find interesting ways to experience the poses more fully.
Teaching Yoga since: 2016
Trained in: Hatha Yoga
Teachers: Dr. Steve and Darlene Feinzig and Alina Flor
Ellie instructs the following:
Everything you love about Yoga Basics... it's an accessible moderately paced class that still moves through a great series of postures, just without any extremely advanced postures. This class is heated 98-100 degrees but with our state of the art infrared heating system, it feels amazing and therapeutic. Bring a toweling get ready to sweat.




Move at a moderate pace int this hybrid Yoga Basics/Alignment Power Yoga class. Includes basic and more challenging options to benefit from a variety of poses. Open to active beginners and experienced students.